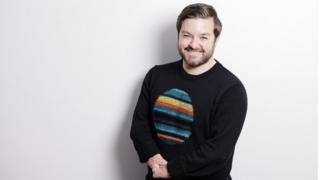 When comedian Alex Brooker was hired to appear on The Last Leg he was initially put on a nine-day contract.
Which isn't surprising. After all, the programme was only supposed to run for two weeks, alongside the 2012 Paralympic Games in London.
Brooker, who was working as a sports journalist at the time, assumed that once the tournament concluded, so too would the series. But then, the team started noticing how much momentum was building around it.
"I didn't think I'd do any more television, but when we were about four shows into The Last Leg, we went out in the Olympic Park and a huge number of people were coming up to us," he recalls. "Josh [Widdicombe] and I went to film something and like, people were mobbing us. And it was the first time I realised that this had hit home with a lot of people."
The programme, fronted by Brooker, Widdicombe and presenter Adam Hills, looked back at each day's events during the Paralympics.
Crucially, it celebrated and poked fun at disability in equal measure. Brooker, who has hand and arm impairments and uses a prosthetic leg,