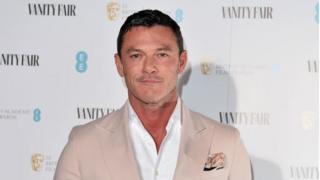 Image copyright
Getty Images
Image caption
Luke Evans praised the "amazing" staff at Morriston Hospital in Swansea
Actor Luke Evans has praised hospital staff who saved his father's hand after an accident with a circular saw.
In an Instagram video Evans described how his father, David Evans, had "sliced his hand open" with the tool.
He praised the "amazing" staff at Morriston Hospital in Swansea who operated on his father.
Beauty and the Beast star Evans, who was brought up in Aberbargoed, said the incident happened on Friday in the garden of his parents' home.
In the video, posted on Monday evening, he said: "Three days ago my dad had an accident in his garden, chopping, slicing wood on a circular saw. It was ver