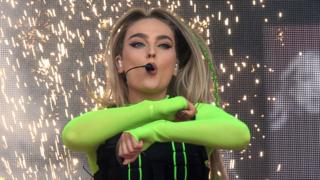 Image copyright
Getty Images
Image caption
The singer had just turned 18 when she auditioned for X Factor in 2011
If anyone can lift us out of the gloom, it's Little Mix.
Britain's most successful girl band are breaking through the fug of self-isolation with a turbo-charged new single that goes by the self-explanatory title Break Up Song.
It was written in a flurry of creativity last year – one of seven songs the band composed in a single day with their go-to writer (and former stockbroker) Camille Purcell.
Straight away, it was earmarked as the first single on Little Mix's sixth album, which is also their first since splitting from Simon Cowell's record label, Syco, in 2018.
Plans for the album are up in the air after the coronavirus outbreak put recording sessions on hold – but they decided to release Break Up Song anyway, in an attempt to keep their fans happy in uncertain times.
Singer Perrie Edwards joined us on the phone from her house in London to explain what's going on; and how the split from Syco has given Little Mix permission to go back to their first love: pure,