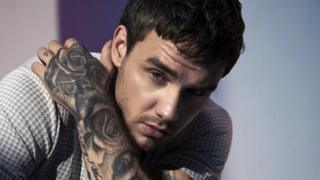 Image copyright
Jason Hetherington
Image caption
"It was very erratic behaviour on my part – I was partying too hard," says Liam Payne
In the offices of Liam Payne's management company, just north of Soho in central London, there's a bottle of Bacardi inscribed with his name.
It was sent as a gift, after the singer immortalised the drink in his hit single Strip That Down. According to the lyrics, which he co-wrote with Ed Sheeran, he mixes it with Coke and "sips it lightly".
There's just one small snag, says Payne: "I don't think I've ever drunk Bacardi".
"When I was younger, I went straight in on the whisky," the star says. "I tend to pick my poison early, then I stick with it until it bores me."
In fact, shortly after Strip That Down was released in 2017, Payne gave up drinking altogether after his lifestyle became "a cause for concern".
"There were a couple of very dark years of me going through extreme peril with different mental health things," says the 26-year-old. "I just didn't know where I was going to end up."