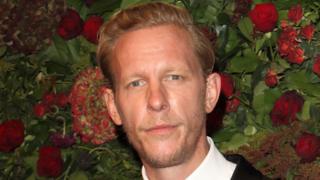 Image copyright
Getty Images
Image caption
Fox said he hoped the apology would be "an opportunity… to celebrate diversity"
Actors union Equity has apologised to Laurence Fox for a tweet by one of its committees that called him "a disgrace to our industry".
"It was a mistake for Equity as an organisation to criticise him in this way," said the union in a statement.
Fox appeared as a panellist on Question Time in January, during which he called an audience member "racist" for calling him "a white privileged male".
His remarks were criticised by Equity's minority ethnic members committee.
Fox thanked Equity for their comments with a tweet, following a 19-day break from Twitter.
In a previous statement issued in January, Equity said its rules had been "inadvertently broken" and it had been "a mistake to criticise a member of the prof