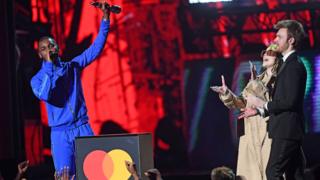 Image copyright
Getty
London rapper Dave won album of the year at the Brits, moments after calling the prime minister a "racist".
The star took home the night's main award for his provocative, personal album Psychodrama, which also won last year's Mercury Prize.
But it was his fiery performance of the single Black which stole the show.
In a newly-written verse, he called out the government response to Grenfell and said: "The truth is our prime minister is a real racist".
Brits 2020: Full winners list
Brit Awards: Red carpet in pictures
He also attacked tabloid coverage of the Duchess of Sussex, and made a reference to London Bridge terror attack victim Jack Merritt.
Two years after Stormzy demanded "where's the money for Grenfell?" on the Brits stage, Dave updated the lyric, saying: "Grenfell victims still need accommodation".
"And we still need support for the Windrush generation / Reparations for the time our people spent on plantations," he added.
The lyrics were added as a final verse to Black, which talks about perceptions and experiences of black people in the UK.